description
product review
Shipping & Return
600ml Sports Plastic Water Bottle Combine Daily Pill Boxes Organizer Drinking Bottles Leak-Proof Bottle Tumbler Outdoor
Product Description:
New material eco-friendly storage with BPA Free
There are 7 pill boxes on the bottle which can carry some pills if necessary.
Good for hiking or outdoor camping and so on
Spray perfect combination with drink. Resistant to slam cup body is food grade polycarbonate.

Specification:
Material: PP+PC (BPA FREE)
Gross Weight(about) : 150g
Capacity: 600ml
Size(about): 8cm x23.5m
Package Included:
1* Sport Water Bottle

Note:
It is manual measurement, there may be 1-2cm error. Thank you!
Due to lighting effect and computer color, the actual colors may be slightly different from the picture.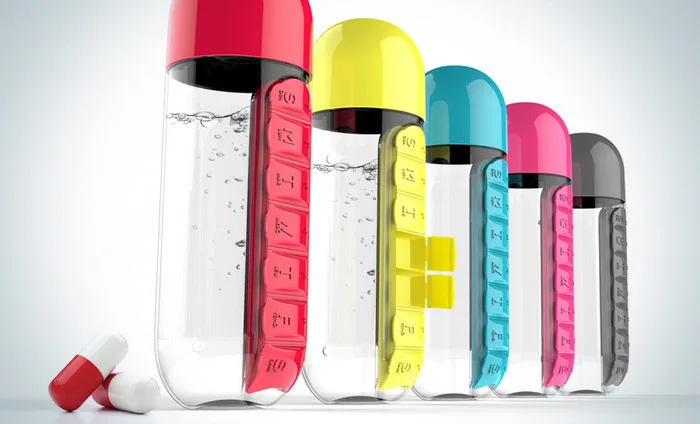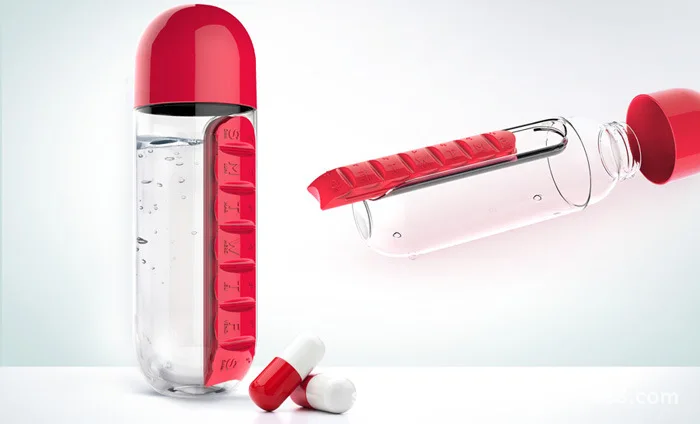 Brand Name: OUSSIRRO
Outdoor Activity: Hiking
Supply Type: In-Stock Items
Anti-corrosion Coating: Not Equipped
Material: Plastic
Plastic Type: PC
Shape: With Lid
Applicable People: Adults
Boiling Water: Applicable
Feature: Eco-Friendly
Thermal Insulation Performance: None
Certification: CE / EU
Certification: CIQ
Certification: FDA
Water Flowing Method: Direct Drinking
Drinkware Type: Water Bottles
Style: Brief
Where Does GOOD DEAL GROUP (goodealcompany ltd) Ship From?
When it comes to GOOD DEAL GROUP (goodealcompany ltd) shipping, most warehouses are based in China, Europe, America & Middle East. GOOD DEAL GROUP doesn't necessarily disclose where it ships from on your shipment information. Tracking details typically refer to it as "Country of origin." 
   However, if you take a look at the shipping method and it includes China Post, it's safe to assume that the seller's shipping location is in China. 
Most of stuffs are shipped from Europe to Europe (depends on your location).
For example LDD OFFICIAL (GDC Clothes Brand) is dispatched from Latvia, Mexico, Spain & Japan.
How Long Does GOOD DEAL GROUP Take to Deliver?
We tried the following GOOD DEAL GROUP shipping methods:
Standard International Shipping  (most used)

ePacket

Economic Air Mail

Fast Courier (Europe to Europe deliveries : like GLS & DHL)
These are the products that were ordered:

GOOD DEAL GROUP Standard Shipping
Standard International Shipping is an affordable shipping method. It's usually one of the cheapest & Free. 
The Buddha figurines, one of the products ordered, were delivered via GOOD DEAL GROUP Standard Intl Shipping. They arrived in 26 days which beat the maximum time listed on their product page as you can see here, by four days. In this specific case, the GDC Standard Intl Shipping was changed to ePacket, another shipping method. Cost: FREE
The heart necklace was also delivered with GOOD DEAL COMPANY Standard Intl Shipping. The product arrived in 16 days. The estimated GOOD DEAL GROUP LTD delivery time listed on as per the product page as you can see here was 15-30 days.   Cost: Free.
GOOD DEAL GROUP Standard Intl Shipping.  It was delivered in only 13 days. The estimated GDC delivery time was 15-30 days, which means. iIt beat the earliest estimate by two days, as per the product page.   Cost: FREE
GDC Standard Intl Shipping is the shipping method of choice for the bowtie shoes. They wereIt was delivered in 22 days. The GDC delivery time range for the product was 15-30 days proving that it was delivered within that range. Cost: FREE
ePacket Delivery
ePacket delivery is the most popular GDC shipping method. It boasts one of the most affordable GDC shipping costs and reaches customers faster than traditional shipping methods of the same price range. Depending on the product, ePacket shipping costs can sometimes be free, saving you money!
ePacket shipping was used for the women's watch. The watch was delivered in 18 days. The GDC delivery time listed was estimated for 16-28 days. Cost: $4.00
The bracelet set was also shipped by ePacket. It was delivered in 15 days. According to the product page, that's one day earlier than it's minimum guideline of 16-26 days. Cost: $2.94
Fast Delivery (Europe & served countries)
Fast GDC Delivery       is one of the GOOD DEAL GROUP shipping methods customers can choose from.
As one of the biggest shippers, you can expect one of the shortest ecommerce shipping times.
The beads stone bracelet was shipped via Courier. It hard the fastest delivery time –of only 3/10 days.